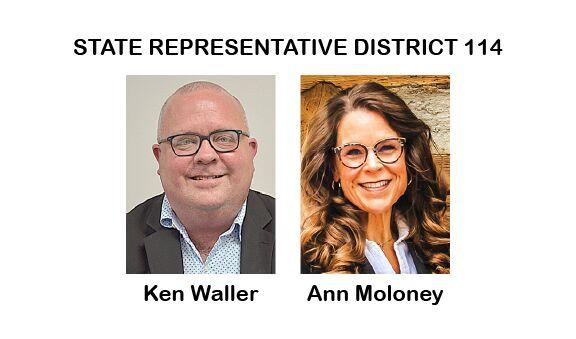 The Republican Party's Aug. 2 primary election for District 114 in the Missouri House of Representatives features a veteran Jefferson County politician against a political newcomer.
Ken Waller, the current Jefferson County Clerk who also has been elected County Executive and Treasurer, is running against Ann Moloney.
The District 114 seat has been vacant since Becky Ruth resigned in November 2021 in the middle of her fourth two-year term after she was appointed director of the state Office of Child Advocate. She could not have run for a fifth House term because of the state's term limit standards.
State senators and representatives currently receive a $37,711 salary, plus mileage and a per-diem payment for expenses for each day the General Assembly is in session.
WALLER, 60, of Herculaneum is completing his first term as Jefferson County Clerk. He and his wife, Trina, have three children and a grandchild on the way. A 1980 graduate of Festus High School, he received an associate degree in business administration from Jefferson College in 1983 and a bachelor's degree in public administration from the University of Missouri-St. Louis in 1985.
Website/social media: Facebook: Ken Waller for State Rep
MOLONEY, 54, of Barnhart is a National Guard childcare provider. She is a former financial planner office administrator, former secretary-treasurer of the E. Walter Hausstette Foundation and former sales manager for a company that sold education systems. She is also a health coach. She has nine children and has 11 grandchildren. She attended Rosary High School and received a high school equivalency certificate after having a child at the age of 16.
Website: motivatorsformoloney.com
What experience do you have (elected office, civic organizations, volunteer work, etc.) that might serve you well in this position?
Waller: I have been the Jefferson County Clerk and election authority since 2019. Before that, I served two terms as the county's first County Executive (2011-2018) and four years as county Treasurer (2005-2008).
Moloney: I am a past president of the Serra Club of St. Louis. I organized its 2016 international convention held over five days in downtown St. Louis that attracted 450 people from 10 countries. For the first time in 25 years, the convention made money. I am a pro-life director, radio talk show host, Crisis Pregnancy Center fundraiser and auction chair. I have been a member of St. Joseph's Catholic Church for 35 years.
What specific needs exist in your district, and how would you address them?
Waller: ■ Job creation.
■ Infrastructure needs with common-sense funding.
■ Expanding the port areas along the Mississippi River.
■ Additional economic development.
■ Cutting regulations on small business owners that make it hard for them to prosper.
Moloney: It's all about the economy. We need to help our community with the insane gas and grocery prices by opening the pipelines. We must value human life and empower our parents. We need to secure our borders, back the police and give our citizens their money back by lowering taxes and cutting spending. The Missouri tax code needs to be re-evaluated, and we need to address our enormous government waste. Our citizens need to be heard, and by adhering to our constitution, we can improve Missouri and give our residents reasons to stay here.
According to recent polls, the majority of Americans want stricter gun laws. Do you support gun law reforms, and if so what changes do you support? For example, do you support raising age limits to buy guns, more stringent background checks, requiring waiting periods when buying guns, prohibiting types of guns, ammunition clips or ammunition?
Waller: I will not support any legislation that violates a resident's Second Amendment rights
Moloney: The Second Amendment was put in place to protect the people from a tyrannical government. I support the restrictions of background checks, especially for the mentally ill. I will not prohibit types of guns, or ammunition. I will always be a person who protects our Second Amendment because we cannot trust the government, not now, not ever.
Some people question the validity of the last presidential election. Who do you believe won the election and why?
Waller: As the Jefferson County elections clerk for the past four years, I can only speak to the validity of the presidential election that I oversaw in Jefferson County. We had a free and fair election without issues and Donald J. Trump won in Jefferson County.
Moloney: There was significant voter fraud. The numbers just don't add up. Common sense tells us that Joe Biden should not have more votes than Barack Obama. Donald Trump had the election stolen due to absentee ballots placed in boxes that required no proof of identity.
Why should voters elect you to this position? List your goals, if elected.
Waller: My 16 years in county government and 20 years as a small business owner make me uniquely qualified for this position. I have spent a lot of time in Jefferson City in my county positions and would feel very comfortable as a state representative. My goals are economic development, making sure we continue to have safe and secure elections statewide, to decrease government spending and continue infrastructure improvements in the district. Finally, I would continue to guarantee that Missouri remains on the leading edge of protecting life.
Moloney: Seven of my children served in the military and with my nest almost empty, it's my turn to serve. I will bring the work ethic I taught my children to Jefferson City. A public servant is elected to assist constituents and to be available, honest and to behave with dignity and integrity. I am not a career politician. I am a concerned citizen willing to give my time to defend the freedoms we hold dear. There has never been a candidate who knows pro-life issue like me. I truly believe I was made for such a time as this.