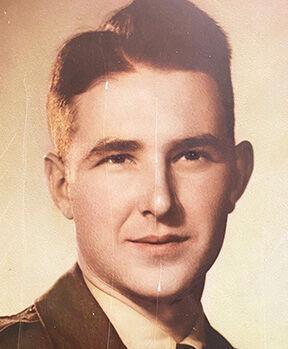 Dwight Leon Caldwell,  93, of Crystal City died Sept. 2, 2021, at Mercy Hospital Jefferson in Crystal City. Mr. Caldwell was a retired letter carrier for the U.S. Postal Service and a member of Sacred Heart Church in Crystal City. He was a U.S. Army veteran of the Korean War and enjoyed playing cards, following Cardinals baseball, reading Western novels and spending time with his children and grandchildren as well as his dear friend, Ginny Lucas. He was born Sept. 2, 1928, in Blue Eye, he was the son of the late Sadie L. (Dunkin) Boyer and Roe J. Caldwell. He was preceded in death by his wife: Corella M. (Jokerst) Caldwell.
He is survived by two daughters: Mary (Wendell) Peterein and Teresa (Marty) Zielonko, both of Festus; two sons: Neil L. Caldwell of Catawissa and Alan D. Caldwell of Irving, Texas; a sister: Rheta Sue (the late Alfred) Gibson of Festus; a brother: Charles (the late Bobbie) Caldwell of De Soto; five grandchildren: Cassie (Mike) Hermann, Tessa (Cornelius Von Morze) Peterein, Tyler (Grace) Peterein, Harper (Mark McGuire) Zielonko and Dylan Zielonko; and four great-grandchildren: Rose Hermann, Violet Hermann, Gilbert Peterein and Reggie Peterein, with another on the way.
He was preceded in death by his stepfather: Howard Boyer; and two brothers: Howard (Doris survives of De Soto) Caldwell and Herb (Nellie survives of Festus) Caldwell.
Memorial visitation is scheduled from 10 a.m. until a memorial Mass at 11 a.m. Wednesday, Sept. 15, at Sacred Heart Church in Crystal City. Burial with full military honors will follow in the National Cemetery at Jefferson Barracks.  Memorials may be made to the Alzheimer's Association. Arrangements are under the direction of Vinyard Funeral Home in Festus.