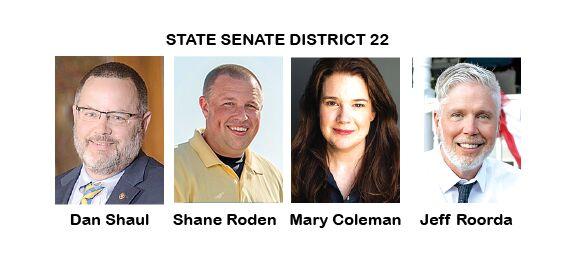 Familiar names and faces – both in Jefferson County and Jefferson City – populate the Aug. 2 ballot for District 22 in the Missouri Senate.
With incumbent Paul Wieland unable to seek another four-year term because of the state's term limits standards, three current and one former state representative have filed for the Republican Party's nomination to take his place.
Dan Shaul of Imperial and Shane Roden of Cedar Hill both served four two-year terms in the House and could not run for new two-year terms, so they filed for the open Senate seat. Mary Elizabeth Coleman of Arnold passed up running for a fourth term from her House district to seek the Senate spot.
Finally, Jeff Roorda of Arnold, who served four non-consecutive terms from 2005-2011 and 2013-2015 in the state House as a Democrat (some before term limits were instituted), switched political allegiances.
The winner will face Democrat Benjamin Hagin of Barnhart in the November general election.
The redrawn district takes in roughly the northern half of Jefferson County.
State senators and representatives currently receive a $37,711 salary, plus mileage and a per-diem payment for expenses for each day the General Assembly is in session.
SHAUL, 53, of Imperial is the state director of the Missouri Grocers Association. He and his wife, Kim, have three children. He studied aviation technology at Parks College.
Website: shaulformo.com
RODEN, 39, of Cedar Hill is an adjunct professor at Lindenwood University and is an instructor with the American Heart Association in addition to serving as the incumbent District 111 representative in the state House. He was a full-time firefighter-paramedic and part-time deputy sheriff. He and his wife, Shannon, who is running for Jefferson County Collector, have three children. He graduated from East Central College in 2003 with an associate degree in paramedic technology, from Lindenwood University in 2007 with a bachelor's degree in fire science management and from Arkansas State University in 2014 with a master's degree in public administration.
Website/social media: Facebook: Shane Roden State Senate
COLEMAN, 40, of Arnold is an attorney. She and her husband, Christopher, have six children. She graduated from St. Louis University in 2004 and received a law degree from the St. Mary's University School of Law in 2007.
Website/social media: Website: maryelizabethcoleman.com Facebook: Mary Elizabeth Coleman Twitter: @meaccoleman
ROORDA, 57, of Arnold is a spokesman for and business manager of the St. Louis Police Officers Association. He and his wife, Nancy, have three daughters. He earned a master's degree in public policy administration from the University of Missouri-St. Louis in 2003.
Website/social media: Website: roordaforsenate.com Facebook: Jeff Roorda for State Senate
What experience do you have (elected office, civic organizations, volunteer work, etc.) that might serve you well in this position?
Shaul: As a proud Air Force veteran, I took an oath to defend our Constitution and have dedicated my life to protecting our freedoms and values. In the Missouri House, I have championed conservative causes and defended our constitutional rights. As the chair of the Elections Committee, I've led the effort to crack down on voter fraud and strengthened the security of our elections.
Roden: In addition to my time in the state House, I have been a volunteer firefighter and paramedic, a member of the Franklin-Jefferson Heavy Rescue Task Force 5, am a hazmat specialist with the Missouri Task Force 1 Heavy Rescue Team and am a commissioned deputy sheriff, a former SWAT medic-operator, a lifetime member of the Commemorative Air Force-Missouri Wing and am an Eagle Scout.
Coleman: Before being elected to the state House, I represented Ward 2 on the Arnold City Council.
Roorda: Previous elected offices in addition to the state House of Representatives include service on the Antonia Fire Protection District Board of Directors (2002-2004) and the Rock Township Ambulance District Board of Directors (2000-2004).
What would be your top legislative priority?
Shaul: I will continue to do everything in my power to push back against Biden's failed agenda. Right now, Jefferson County families are hurting. Whether at the gas pump or the grocery store, Biden's failed economic polices are squeezing our families and pushing our economy toward recession.
Roden: My top priority has always been our one Constitutional obligation – to maintain a balanced budget. We should always work to be the most efficient when spending taxpayers' money. The next concern would be the increase of crime in the state and the effects we are seeing spill over into our county when other cities and counties do not enforce laws. The state must address the issues or we will continue to see crime increase.
Coleman: I will fight to stop liberals from defunding the police and believe we must fully support law enforcement officers and give them tools to stop violent crime, curb illegal immigration and stop the cartels from flooding our state with illegal drugs.
Roorda: As a cop for 17 years and a police spokesman for the last 11 years, cracking down on crime and illegal immigration and rejecting police defunding are my top priorities. Addressing inflation and gas prices is another top priority as well as completing the Jefferson County port. I'll also fight to protect the lives of the unborn and to keep taxes low. I'll fight right to work and public school defunding.
According to recent polls, the majority of Americans want stricter gun laws. Do you support gun law reforms, and if so what changes do you support?. For example, do you support raising age limits to buy guns, more stringent background checks, requiring waiting periods when buying guns, prohibiting types of guns, ammunition clips or ammunition?
Shaul: I have always been a conservative champion of the Second Amendment, and in the Senate that won't change. I will not allow gun-grabbing liberals to encroach on our Second Amendment rights.
Roden: The type of firearm, the amount of ammunition a magazine can hold, or certain ammunition is irrelevant. Criminals do not care about gun laws. As a state we need to address the issues when there is a lack of prosecution for the laws currently on the books. St. Louis' circuit attorney is a prime example. When you stop enforcing the law, criminals will take advantage of law-abiding citizens. Enforce the laws currently in statute.
Coleman: I'm a strong supporter of the Second Amendment and oppose unconstitutional attempts to limit Missourians' rights.
Roorda: We need stricter enforcement against criminals using guns to commit crimes, not stricter laws that impede on the Second Amendment rights of lawful gun owners. I work directly with police officers everyday who share my frustration over lax enforcement. In St. Louis alone, the prosecutor has refused to charge more than 1,000 dangerous criminals who have used guns to commit crimes, requiring police there to pursue charges through the feds. The same thing is happening all over Missouri. We need to crack down on the criminals who are violating existing laws, not punish law-abiding citizens with new ones.
Some people question the validity of the last presidential election. Who do you believe won the election and why?
Shaul: As the chair of the House Elections Committee, I've led Missouri's efforts to crack down on voter fraud and made sure Missouri has the most secure elections in the country. I'm leading the fight to ensure only legal citizens can vote in our elections.
Roden: When people have concerns on the validity of any election, we must take those concerns seriously. Fair elections are the backbone of our country and freedom. We must have open and transparent elections which remove any doubt at the end of the day. In our state, we have seen election fraud on more than one occasion. While we cannot change the past, we must continue to look to the future and ensure we do everything we can to eliminate any doubt.
Coleman: Refusal to adopt President Trump's recommendations to protect our elections weakened voter integrity and made our elections easier to steal.
Roorda: It is vital to our democracy that people have confidence in our electoral system. The mainstream media may not want to admit it, but that confidence has been shaken to its core. I certainly hope that the votes in my election are counted by professionals who have no partisan agenda in a transparent way that is compliant with the law and verifiable.
Why should voters elect you to this position? List your goals, if elected.
Shaul: My No. 1 priority as a legislator is to protect the Constitution and our rights enshrined within. In the Senate, I will continue working to eliminate voter fraud and secure our elections, protect the Second Amendment, keep Missouri the most pro-life state in the country, keep our taxes low, promote the America First agenda and fight back against Biden's failed policies.
Roden: In my eight years in the House, I have focused on issues and concerns that many constituents have had and tried to be their voice in Jefferson City. If elected to the Senate, I will continue to be their voice in Jefferson City. By working with local leaders, we can address the crime affecting our community and state. Affordable broadband internet access to rural areas must be addressed and the budget must be balanced.
Coleman: I'm endorsed by Missouri Right to Life. I am the only candidate to have pledged not to raise your taxes. I will protect your Second Amendment rights, and support law enforcement with the tools they need to curb violent crime and illegal immigration. I also believe education should be in the hands of families, which is why I support a parents' bill of rights.
Roorda: I entered this race because I looked at the announced candidates and didn't see any good options. I stand up and fight for what I believe in and get things done to increase the safety, prosperity, virtue and welfare of our community.
If voters want a senator who has served our community and is willing to roll up his sleeves to get things done, I'm the only choice. I've been endorsed by the Fraternal Order of Police, the International Association of Firefighters, the Missouri State Teachers Association and blue-collar labor unions.