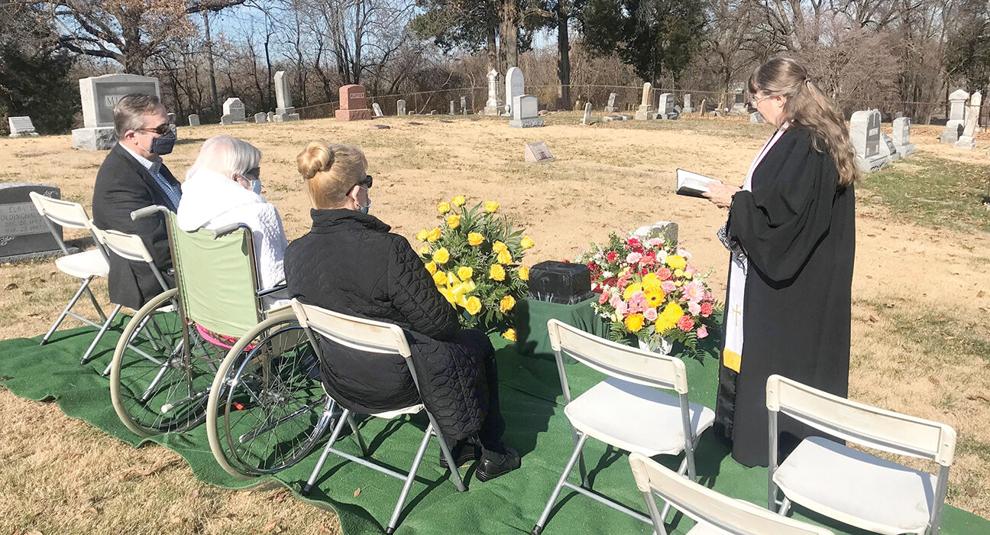 The COVID-19 pandemic has changed life in many ways, including the way we mourn our lost loved ones, honor their memory and begin the process of healing from their loss.
Representatives from several local funeral homes say the number of deaths has been higher over the past year than ever before.
"Our numbers were way up, especially in December and January," said Don Paluczak, manager at Kutis Funeral Home in south St. Louis County. "Overall, they were up in every month."
Jake Dietrich of Dietrich-Mothershead Funeral Home in De Soto reported a similar trend.
"We were noticeably more busy than in years past," he said. "We had something like 25 percent more calls than we normally would. It was the largest single-year total I can remember."
Increased deaths due to COVID-19 isn't the only factor responsible, however.
"It's not a simple answer," said Herb Vinyard, fourth-generation owner of Vinyard Funeral Home in Festus. "My numbers, compared to a five-year rolling average, are up about 20 percent. Talking to other funeral directors in Missouri and neighboring states, that seems to be the norm.
"But you have to look at the big picture. You see COVID-19 is a certain percentage, but total deaths are up across the board. And, I think that's because of the anxiety caused by the pandemic. It has affected people's behavior – we're seeing more suicides, overdoses, accidents, other deaths that aren't from the virus but can be attributed to the pandemic."
Only minor changes
Quarantine rules have changed the way visitation and services are held. Lockdown rules in St. Louis County allowed fewer people at indoor gatherings than Jefferson County had in place.
"A lot of people are having small, private services with the anticipation of something bigger and more elaborate later on," Paluczak said.
Funeral homes in Jefferson County have followed Health Department guidelines but largely have left the decision up to families.
"We would have public graveside services in those nice days last spring and summer, and there would be very large crowds sometimes," Vinyard said. "We never set a limit to the number of people for an indoor service; if we couldn't control the number, we just didn't do it. Practically every family agreed with that. People definitely understood the logic in it."
Thanks to technology, families have had other options when it comes to memorial services.
"We've had the capability of livestreaming, from here or from churches or whatever," Dietrich said. "Some people have chosen to go that route, especially if they are concerned about the elderly or people with health issues being able to come."
All local funeral homes have encouraged the use of face masks and social distancing, and most have augmented their regular cleaning protocols.
"We did a split crew for a couple of months early on, but we went back to regular shifts by summertime," Paluczak said. "We have sanitizing stations set up throughout. The building has always been cleaned regularly, but we bought a fogging machine that can disinfect every room every night. It's more thorough and lasts longer."
Extensive use of personal protective gear such as masks and gloves were already the industry standard.
"Going into hospitals and nursing homes this year, there are extra steps we have had to take," Vinyard said. "But we have always been careful."
Trends for the future?
Choosing cremation over burial already was a gradual trend, and the pandemic has helped that along.
"I don't see that being a result of being cautious about COVID-19," Dietrich said. "It's been increasing in general and will likely continue."
Local cemeteries haven't instituted any new policies, but the National Cemetery at Jefferson Barracks has reduced both its staff numbers and the schedule of service slots available.
"There were times where we were trying to schedule and they were three weeks out," Vinyard said. "It was a real bottleneck. We were at capacity, storage wise, for quite a while there."
Several funeral directors said they think trends established over the past year will remain once the pandemic has eased.
"We would typically have visitation one day and the service the next," Paluczak said. "Now we're seeing a lot of visitation and service the same day. We're also seeing more people than before who are using our online services to offer condolences, when they don't feel comfortable coming in person."
Dietrich said the changes over the past year may actually lead to better things.
"Sometimes change isn't a bad thing," he said. "You just have to pay attention to the people, what their expectations are.
"I think people have come to appreciate more that they have options, that they have the opportunity to do things differently than they were used to."
The human factor
The biggest impact of the pandemic has been in depriving people of the opportunity to express their grief in person.
"It has a lot to do with the fact that sometimes the grief process begins before the person passes away," Dietrich said.
"Having a loved one in a hospital or nursing facility and you can't see them or be with them or help them – that has really made it difficult for people to navigate."
Paluczak agreed, adding that sometimes virtual services simply can't meet customers' needs.
"Some of the greatest medicine is a hug," he said. "The inability to gather means you don't have that, and it's difficult.
"Back when this started, we all thought we'd be back to normal by mid-summer. It's something we never lived through before, and it's just strange."