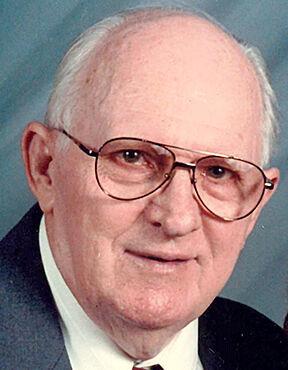 Delbert "Dean" Greever, 94, of Pevely died Sept. 13, 2021, at his home. Mr. Greever was a retired machinist from the mock-up and tooling department at McDonnell-Douglas and Boeing Aircraft in St. Louis. He was a member of the International Association of Machinist and Aerospace Workers 837B and a World War II Navy veteran. He was a member of First United Methodist Church of Festus/Crystal City and a longtime volunteer for its food pantry, and was an avid fast pitch softball player who pitched up until his 60s. He was born Sept. 12, 1927, in Tarkio, he was the son of the late Georgia Evelyn Lee (Dean) and Delbert Piester Greever.
He is survived by his wife: Barbara "Carol" (Marler) Greever; two sons: Richard (Michelle) Greever of Seoul, South Korea, and David Greever of Barnhart; three daughters: Barbara Greever of Pevely, Deena (the late David) McCullah of Huntington Beach, Calif., and Nannette Schanz of Pevely; 11 grandchildren: Jennifer (Jeff Sanders) Anderson, Joshua Greever, Rebecca (Bill) Nekula, Jeana (David) Shim, Brian (Danielle Greenlee) Schanz, Brittany (Lonny) Lay, Kelsey (Justin) Heberlie, Kelsi (Derrick) Belisle, Zach Jones, Vanessa Schanz, and Derek Schanz; and 10 great-grandchildren: Gabrielle Gray, Clayton Anderson, Blake Nekula, Brandon Nekula, Lucas Schanz, Finley Lay, Carolina Heberlie, Benton Lay, Jaxon Shim and Emmilou Heberlie. He was preceded in death by a brother: Norman Duane (the late Anne) Greever.
A celebration of life service with full military honors is scheduled for noon Sunday, Sept. 19, at First United Methodist Church in Festus, officiated by Pastor Tish Green. Memorials may be made to the Food Pantry of First United Methodist Church. Arrangements are under the direction of Vinyard Funeral Home in Festus.