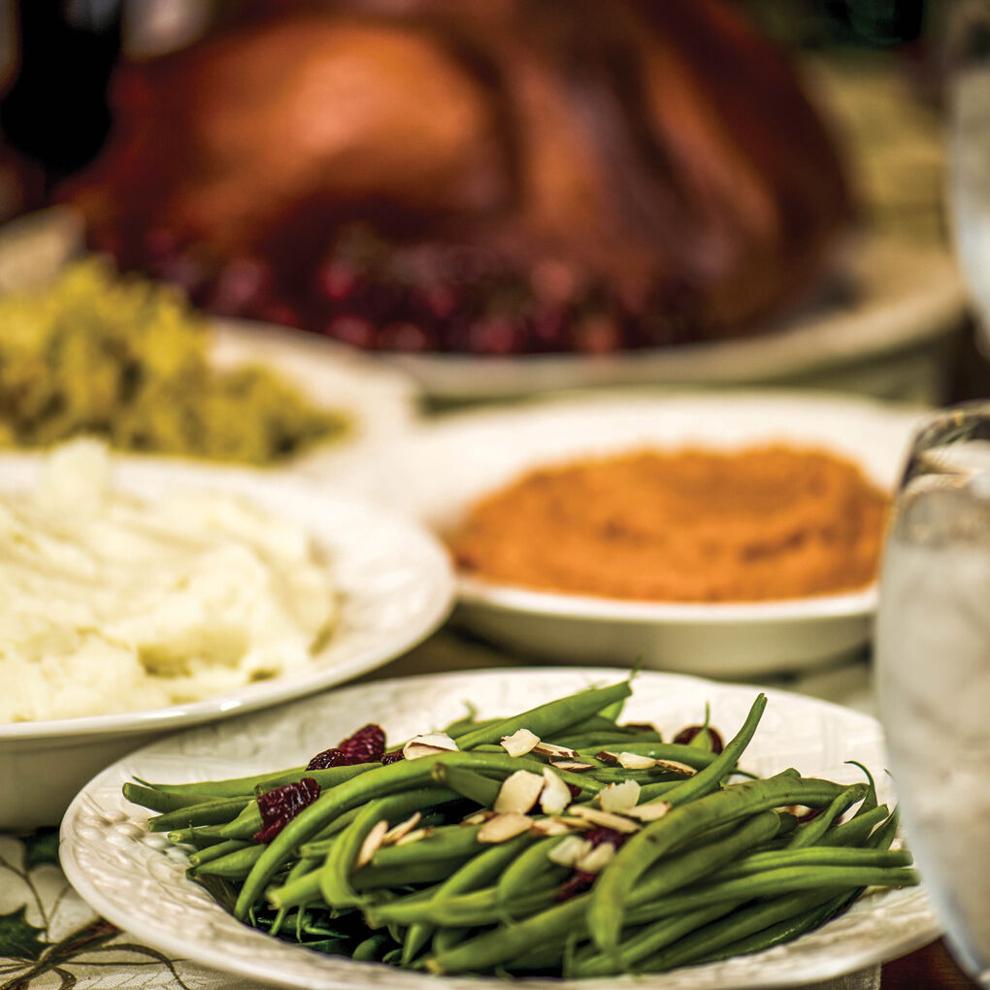 Finalist: Bacon Brussels Sprouts
Cindy Fox, Imperial
2 medium onions, sliced 1/8-inch thick
1/4 cup bacon, chopped and cooked, reserve fat
5 cloves garlic, sliced in half
4 jalapeno peppers, seeded and thinly sliced
1 1/4 cups chicken broth
1/4 cup cider vinegar
2 sprigs thyme (1/2 teaspoon dried)
1/2 teaspoon pepper
3 bay leaves
1 teaspoon salt
1/2 pound brussels sprouts, halved
1-2 tablespoons oil
Saute onions in reserved bacon fat on low heat until caramelized (approximately 20 minutes). Add garlic and jalapenos; stir and cook 1-2 minutes. Add broth, vinegar, thyme, bay leaves, pepper. Simmer until all broth is gone. Salt to taste. Meanwhile, add oil to a non-stick pan and brown Brussels sprouts. When they are browned and the onions are ready, mix the two together and top with crispy bacon.
Jimmy Buffet's Jalapeno Macaroni and Cheese
Nancy Tindall, Imperial
8 tablespoons butter
1 package (8 ounces) cream cheese
2 1/2 cups heavy cream
1 teaspoon salt
1/4 teaspoon seasoned salt
8 ounces cheddar cheese, grated
1/3 cup flour
1 cup jalapenos, sliced
1/2 cup jalapeno juice
2 tablespoons bread crumbs
1 package (16 ounces) large macaroni, prepared according to package directions
Preheat oven to 350 degrees. In a saucepan, melt butter over low heat. Add cream cheese and mix until melted and blended. Stir in heavy cream, then stir in jalapeno juice. Add sliced jalapenos and stir; add salt, seasoned salt and flour. Continue whisking until all ingredients are completely blended. Spray loaf pan with pan coating and layer bottom of pan with cooked macaroni. Spoon in half the mixture and cover with half of the cheddar; repeat layers. Dust top with bread crumbs. Cover and bake at 350 for 30 minutes; uncover and bake an additional 25-30 minutes until brown.
Arabian Spinach
Robert Duncan, Dittmer
2 tablespoons olive oil
1 medium onion, sliced
2 cloves garlic, minced (more if you like garlic)
3 1/2 cups fresh spinach, washed and shredded
1 teaspoon cumin seeds
1 can (15 ounces) chickpeas (garbanzo beans), drained
1 tablespoon butter
Salt and pepper to taste
In large frying pan or wok, fry onions in oil for about 5 minutes Add garlic and cumin; cook another minute. Add spinach in stages until it starts wilting. Stir in chickpeas and butter; season with salt and pepper and cook until it starts to bubble. Serve hot.
Sweet Potato Casserole
Jane AuBuchon, Festus
Casserole
3 cups sweet potatoes, cooked and mashed
1 cup sugar
3 eggs
1/3 cup flour
1/2 teaspoon salt
1/3 cup butter
1 teaspoon vanilla
Topping
1 cup brown sugar
1/3 cup flour
1 cup chopped pecans
1/3 stick butter
Combine all casserole ingredients and mix well; turn into greased 2-quart baking dish. Combine topping ingredients; crumble on top of potato mixture. Bake 35 minutes.
"My mother-in-law shared this recipe with me in 1989 and it has been on the holiday table every year since. I brought it to church dinners and dinners at my workplace and was asked to bring it every year. I was asked for the recipe so many times that I had it memorized. A few people said they didn't care for sweet potatoes, but they loved this dish."
Hash Brown Casserole
Jane AuBuchon, Festus
1 package (32 ounces) frozen hash brown potatoes
1/2 cup melted butter, divided
2 cups shredded cheddar cheese
1 pint sour cream
1 can cream of chicken soup
1/4 cup chopped onion
1/2 teaspoon salt
1/4 teaspoon pepper
2 cups crushed corn flakes
Combine potatoes, 1/4 cup melted butter, cheese, sour cream, soup, onion and seasonings; turn into a buttered 13-by-9-inch baking pan. Mix corn flakes and remaining butter; sprinkle on top of casserole dish. Bake at 350 degrees for 45 minutes.
"We have this every Christmas. It goes great with ham. It's very easy to put together, so it can be done quickly or event eh night before and refrigerated to bake the next day."
Broccoli Rice Casserole
Jane AuBuchon, Festus
1 onion, chopped
1/2 stick margarine
1 package frozen chopped broccoli, cooked and drained
1 cup minute rice
1 can cream of mushroom soup
1/4 cup water
1/2 cup Cheez Whiz
1/2 cup milk
Preheat oven to 350 degrees. Saute onion in margarine. Combine with remaining ingredients and turn into a 2-quart baking dish. Bake 30-40 minutes.
Corn Casserole
Karen Maschek, Arnold
1/2 cup butter
2 eggs
1 package Jiffy brand corn muffin mix
2 cups fresh or canned corn
1 can creamed corn
1 cup sour cream
2 tablespoons onions or jalapenos peppers, minced (optional)
1 cup sharp cheddar cheese (optional)
Bacon, crumbled, (optional)
Preheat oven to 350 degrees. Grease a 2-quart casserole dish. In bowl, combine first six ingredients until well mixed; spread into prepared dish. Bake 45-55 minutes or until browned.
Calico Bean Casserole
Patricia Southard, De Soto
1 can lima beans
2 cans kidney beans
1 large can baked beans
1 medium onion, chopped
1 pound ground chuck
1/4 pound bacon, fried
2 tablespoons cider vinegar
1/2 cup brown sugar
1/2 cup ketchup
1 to 1 1/2 teaspoons salt, pepper, and garlic (depending on taste)
Preheat oven to 350 degrees. Fry bacon in skillet; drain grease. Add onion and beef in same skillet; brown meat. Add remaining ingredients; stir until well mixed and turn into large baking dish. Bake 1 to 1 1/2 hours.
Sweet Potato Casserole
Teri Edwards-Stis, Festus
3 cups sweet potatoes, cooked and mashed
1 stick butter
1 cup sugar
2 eggs, beaten slightly
1/3 cup milk
1 teaspoon vanilla
1/4 teaspoon cinnamon
Nutmeg to taste
Topping
1 cup brown sugar
1 cup chopped pecans
1/3 cup flour
1/3 cup melted butter
Preheat oven to 350 degrees. Mix potatoes and butter; add next six ingredients and mix well. Turn into a casserole dish. Mix brown sugar, nuts and flour; spread over potatoes in dish. Drizzle with melted butter. Bake 25-30 minutes
Cream Cheese Cauliflower
Beth Rodgers, Imperial
1 large head cauliflower
1 package (8 ounces) cream cheese, room temp
1/2 to 3/4 stick butter, depending on size of cauliflower head
2 tablespoons flour
Milk (about 1 1/2-2 cups)
Garlic, salt, pepper to taste
Cut cauliflower into florets and cook (boil or microwave) until just past crisp; set aside. In a mixing bowl, use electric mixer to cream softened cream cheese, adding milk by small amounts until it has a thick, icing consistency. In large frying pan over medium heat, melt butter; add flour and cook, stirring frequently, until it starts to boil. Add cream cheese/ milk mixture to pan and combine well. Continue to cook and stir, adding milk until it comes to a thick gravy. Season with garlic, salt, and pepper to taste. Add cooked cauliflower to pan and stir well to coat completely. Serve warm.
Mashed Potato Hot Dish
David Owings, Festus
1 pound ground beef
1 can (10.75 ounces) condensed cream of chicken soup, undiluted
2 cups frozen, French-style green beans
2 cups hot mashed potatoes, prepared with milk and butter
1/2 cup shredded cheddar cheese
In a large skillet, cook beef over medium heat until no longer pink; drain. Stir in soup and beans.
Transfer to a greased 2-quart baking dish. Top with mashed potatoes; sprinkle with cheese. Bake uncovered at 350 degrees for 20-25 minutes or until dish bubbles and cheese is melted.
Sweet Potato Casserole
Karen Hanning, Fenton
Fresh sweet potatoes or canned
Chunk pineapple
1 bag, small marshmallows
Bake 350 degrees for 30 minutes
Honey Spiced Glazed Carrots
Claudia Foran, House Springs
4 tablespoons butter, melted
3 tablespoons honey
1 tablespoon brown sugar
1/2 teaspoon salt
1/2 teaspoon cinnamon
1/4 teaspoon nutmeg
1/2 teaspoon black pepper
1 tablespoon chives, thinly sliced
2 pounds carrots, peeled and sliced
Preheat oven to 350 degrees. Stir together first 7 ingredients; add carrots. Grease a casserole dish; add carrot mixture with some water. Cook for 30 minutes or less. Check often so as not to burn. Garnish with chives to serve.
Caramelized Onion Pudding
Missy Mehringer, Eureka
1/2 cup butter
6 medium sweet onions, sliced
6 large eggs
2 cups whipping cream
1/4 cup sugar
1/4 cup flour
2 teaspoons salt
2 teaspoons baking powder
Melt butter in large skillet over medium heat. Add onions and saute for 20 minutes until caramelized. Whisk together eggs in large bowl; add remaining ingredients and blend. Stir in onion mixture and pour evenly into two greased 11-by-7-inch baking dishes. Bake at 350 degrees for 25 minutes. Makes 6-8 servings.
"This is a family favorite for Thanksgiving."
One-Pan Chicken and Rice
Cindy Fox, Imperial
5-6 chicken thighs, skin-on
2 teaspoons paprika
2 teaspoons Kosher salt
2 teaspoons pepper
1 1/2 cups Basmati rice
1/4 cup olive oil
1/2 medium onion, roughly chopped
1 red pepper, seeded and roughly chopped
1 can fire-roasted tomatoes
5 cloves garlic
2 cups unsalted chicken broth
Pat chicken dry. Mix salt, paprika and pepper; sprinkle both sides of the chicken. Place rice in a bowl and rinse and agitate. Rinse at least 3 times until the water is clear. Let rice sit in the cold water until ready to cook. In a food processor, combine onion, red pepper, tomatoes and garlic; puree until smooth. Place oil in a cast-iron pan with high sides or deep saute pan. On medium heat, brown chicken, skin side down, until skin is crispy. Remove from pan; set aside. Pour vegetable mixture into pan and cook over medium heat, stirring constantly, until all liquid is gone and it looks like a paste. You will hear the oil cooking the mixture. Drain rice; add to pan and stir until rice is coated with the mixture. Add 2 cups broth and stir. Taste for seasoning, adding salt, pepper and more paprika as desired. Nestle chicken back into pan, keeping the crispy skin exposed. Create a healthy simmer and cook about 30 minutes, checking rice for doneness. Serve.