Don't let the title scare you, dessert finalist says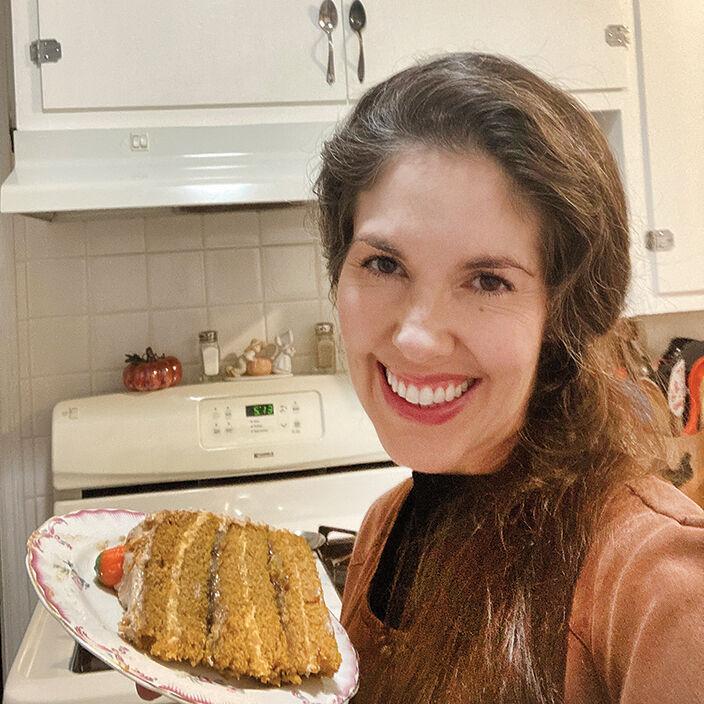 Christina Palczynski of Arnold snagged top honors in the dessert category with her imposingly named Pumpkin Layer Cake with Pumpkin/Apple Filling and Maple Cinnamon Cream Cheese Frosting.
"I just made it for church over the weekend, and everybody loved it," she said. "I get a lot of requests for the recipe."
Palczynski, 44, said she got the recipe from a friend some years ago, but tweaked it to better satisfy her family's taste.
"Hers was just the cake and frosting," she said. "I added more spice and added the maple to the frosting. I love putting fillings in cakes, so I came up with the pumpkin mousse, and then I just kind of threw the apples in there."
Although the recipe calls for canned apple pie filling, Palczynski said she prefers to make her own.
"Canned will work if you're in a hurry," she said. "But I like to chop up my apples really small, cook them up with cinnamon, then thicken with flour and cornstarch. You want to make sure it's thick, so it doesn't ooze out from between the layers."
Palczynski, who homeschools her three youngest children ages 14, 11 and 9, enjoys spending time in the kitchen.
"I love to bake and I love to cook," she said. "I would live in my kitchen. I'd love to open my own bake shop."
And she's passing on her passion, apparently.
"My 14-year-old daughter likes to bake, too," she said. "She makes amazing cakes."
Pumpkin Layer Cake with Pumpkin/Apple Filling and Maple Cinnamon Cream Cheese Frosting
Christina Palczynski, Arnold - FINALIST
I got this recipe from a close friend of mine years ago. She made it at a church potluck. Hers didn't have the filling, and I changed the frosting to make it a bit more spicy for my family's taste. We love pumpkin, and this is perfect.
Cake:
3 cups all-purpose flour
1 1/2 teaspoons baking soda
1/2 teaspoon salt
1 tablespoon pumpkin pie spice
3/4 cup unsalted butter, softened
2 cups granulated sugar
3 large eggs, room temperature
1 tablespoon vanilla extract
1 (15-ounce) can pumpkin
1/4 cup vegetable oil
1 cup milk
Preheat oven to 300 degrees. Grease three 8-inch round cake pans. In mixing bowl, mix flour, baking soda, salt and pumpkin pie spice. In another bowl, cream butter and sugar until light and fluffy. Beat in eggs one at a time. Stir in vanilla, pumpkin, and vegetable oil. Beat in the flour mixture, alternating with milk. Divide batter between the three pans and bake 30-35 minutes. Cool 10 minutes in pan; then remove to wire racks to cool completely. Using plain dental floss or a serrated knife, split each cake in half horizontally, so you have six thin cakes.
Filling:
1 (15-ounce) can apple pie filling (dice apples)
1/4 teaspoon cinnamon
1 (8-ounce) brick cream cheese, room temperature
1/3 cup pumpkin
1/4 cup sugar
1/4 teaspoon pumpkin pie spice
In medium bowl, combine apple pie filling and cinnamon; set aside. In another bowl, beat cream cheese, pumpkin, sugar and pumpkin pie spice until creamy. Place one cake on serving platter and spread with 1/3 of the pumpkin filling. Place another cake on top and spread with 1/2 of the apple filling. Continue alternating until you end up with the last cake on top. Frost top and sides and garnish with candied pecans.
Frosting:
1 (8-ounce) brick cream cheese
1/2 cup butter
1-2 tablespoons maple syrup
1 teaspoon vanilla
2 teaspoons cinnamon
1/2 teaspoon maple extract
4 cups powdered sugar, sifted
In large bowl cream butter and cream cheese until smooth. Beat in maple syrup, vanilla, cinnamon and maple extract. Beat in powdered sugar. Keep refrigerated.
Sugar Cookie Bites
Mallory Greff, sixth-grader at Hillsboro Intermediate School
1 1/4 cups all-purpose flour
1/4 teaspoon kosher salt
3 tablespoons powdered sugar
1/2 cup unsalted butter
1 can vanilla frosting
Christmas sprinkles
Red and green food coloring
Preheat oven to 325 degrees. In a mixer bowl, combine flour, sugar, salt and butter until mixed well. Place dough in another bowl and knead until it's combines nicely. 
On a lightly floured surface, roll out the dough into a 1/2 inch-thick square. Cut dough into 1/2 inch bite-sized squares. Place squares on a large, greased cookie sheet and bake for about 18 minutes. 
Divide frosting into three small bowls and add drops of food coloring to make red, green and white frosting. Once cool, frost cookie bites, and sprinkle Christmas sprinkles on top.
Crack Cake
Lynn Schroeder, Barnhart
This cake is delicious and very addicting, as the name implies. You can't stop at one slice. The best part is it's easy to make. The cake includes a little wine, and any cake with my favorite ingredient, wine, works for me.
Cake:
1 box Duncan Hines yellow cake mix
1/4 cup brown sugar
1/4 cup white sugar
1 box vanilla pudding instant mix
2 teaspoons cinnamon
4 eggs
3/4 cup water
3/4 cup oil
1/2 cup white wine (any kind, but I always use Pinot Grigio)
Glaze :
1 stick butter
1 cup sugar
1/4 cup white wine
Preheat oven to 350 degrees. Mix all the cake ingredients by hand or with a hand mixer.
Generously grease a Bundt pan. (I use butter or Pam baking spray.) Pour batter into pan and bake for 1 hour, or until a knife comes out clean.
To make the glaze, melt the stick of butter into the 1 cup sugar and 1/4 cup wine. Pour over hot cake. (I poke holes in the cake to help it soak in.) Cool cake.
Flip out of pan onto plate and serve. (I loosen the cake with a flexible spatula and shake to help loosen it so it comes out in one piece.)
Peanut butter Cheese Ball
Lynne Doty, Imperial
1/4 cup butter, softened
4 ounces cream cheese, softened
1 cup peanut butter, smooth or crunchy
1/2 teaspoon vanilla extract
1 1/2 cups powdered sugar
1 1/2 cups mini chocolate chips
Using hand or stand mixer, cream butter, cream cheese, and peanut butter until mixed. Mix in vanilla. Add powdered sugar, 1/2 cup at a time, and mix until combined. Mix in peanut butter.
Using hands, form mixture in balls, wrap in plastic wrap and place in bowl. This is so it does not get flat on bottom. Chill 2 hours or overnight. Depending on how long you chill, you need to let it sit out about 30 minutes. Roll in chocolate chips. Serve with pretzels, celery, cookies.
Oreo Fluff
Melissa Mantl, Festus
4 ounces cream cheese, softened
2 1/2 teaspoons clear vanilla
1 (3.4-ounce) box instant cheesecake pudding mix
1 2/3 cups whole milk
1 (8-ounce) tub whipped topping, thawed
2 1/2 cups mini marshmallows
1 package Oreo cookies, crushed (reserve 7 cookies for garnish)
In a small mixing bowl, beat together cream cheese and vanilla with a handheld electric mixer until well blended and smooth; set aside. In a large mixing bowl on high speed, beat together pudding mix and milk until pudding thickens, about 2 minutes. Add cream cheese mixture into pudding mix and mix well for 1 minute. Fold in whipped topping and mini marshmallows. Before serving, crush 6 of the reserved cookies and sprinkle over top of pudding. Place remaining whole cookie at the center of the fluff. Refrigerate leftovers.
Pinto Bean Pie
Brenda Geddie, Festus
1 cup beans, mashed
1/2 stick oleo
1 cup brown sugar
4 eggs, separated yolks, beaten, save egg whites
1 teaspoon vanilla
1 3/4 cups sugar
2 unbaked pie shells
Cook beans without seasoning. Mix oleo, brown sugar, egg yolks, vanilla and sugar. Beat egg whites until stiff and fold into bean mixture. Pour into pie crust and bake at 250 degrees until done.
Apple Crisp
Karen Emerson, Florida, formerly of Hillsboro
My mom made this frequently when we were little. 
6 cups sliced chopped apples
1 cup flour
1 cup sugar
1 teaspoon baking powder
3/4 teaspoon salt
1 unbeaten egg
1/2 cup melted butter, cooled
1/2 teaspoon cinnamon
Place apples in greased pan, no more than half full. Mix together flour, sugar, baking powder, salt and egg; sprinkle over apples. Pour butter over all; sprinkle with cinnamon. Bake at 375 for 30 minutes.
Serve with milk or cream.
Pecan Pumpkin Streusel Pie
Jeanne Brumley, Hillsboro
Filling:
1 (15-ounce) can pumpkin pie filling     
1 (12-ounce) can evaporated milk       
1 cup dark brown sugar
1/4 teaspoon salt  
2 teaspoons ground cinnamon          
1/4 teaspoon ground nutmeg                
2 large eggs, slightly beaten      
Combine all ingredients; mix well.              
Streusel topping:                           
3/4 cup brown sugar                                  
1 cup chopped pecans                              
6 tablespoons melted butter
Combine ingredients; mix to coat.  
Crust:          
2 cups all-purpose flour                                    
1/4 teaspoon salt            
2/3 cup cold unsalted butter, cut into 1/2-inch pieces      
8-12 tablespoons cold milk   
Pecan halves                   
Combine flour, salt and butter. Cut with pastry blender until dough forms pea-sized pieces. Add milk, a tablespoon at a time, stirring with a fork, until the dough can be formed into a soft ball.
On a soft floured cloth or floured board, roll out dough into a 13-inch circle. Place in deep-dish pie plate. Cut off excess dough, leaving a 1/2-inch overlap on edge. Arrange pecan halves evenly in bottom. Add in pie filling, then sprinkle with streusel topping. Make an egg wash by beating together 1 egg and 2 tablespoons of water; brush around rim of crust. Bake at 425 degrees for 15 minutes, reduce temperature to 350 and bake 35-40 minutes until a toothpick comes out clean from the center.
Double Crust Upside Down Apple Pecan Pie
Kelley Sacco, De Soto
This recipe, passed down through the family, always came with a warning to make it the day of the holiday or event because it wouldn't last in the fridge without being eaten!
2 pie crusts, frozen or homemade
5 golden delicious apples, cored, peeled and diced
1 package Emerald brand glazed pecans
2 tablespoons butter
1/2 cup brown sugar
3/4 cup sugar
1/2 teaspoon cinnamon
2 tablespoons flour
1 tablespoon lemon juice (optional)    
In saucepan, combine butter and brown sugar; heat until melted. Add in pecans and toss to coat. Pour pecan mixture into pie plate and cover with one crust.
Combine apples, sugar, cinnamon, flour and lemon juice; pour into pie crust. Top with remaining crust and cut slits for venting steam. 
Bake on a cookie sheet at 375 degrees for 50-60 minutes or until top is golden and apples are bubbling.
Place flat serving plate on top of pie. With oven mitt, hold bottom of pie plate and flip over onto the serving plate. Slowly remove the original pie plate, scraping any pecans that might stick to the pie plate onto the pie.
Serve warm with whipped topping, or cool and refrigerate until ready to enjoy.
Blonde Brownies
Sherry Stewart, Pevely
Years ago I worked in a large office and we made a recipe book to sell. All the money was donated to charity. This recipe was in that book. I tweaked the recipe just a bit from the original and changed the name of it. It's one of my daughter's favorites. It is so quick and easy.
1 box yellow cake mix
2 eggs
1/2 cup vegetable oil
2 tablespoons water
1/2 teaspoon vanilla
8 ounces chocolate chips
Powdered sugar
Preheat oven to 350 degrees. Beat eggs, oil, water and vanilla; add in cake mix and stir. Fold in chocolate chips. Spread in greased 9-by-13-inch pan. Bake 25 minutes or until light brown; let cool. Sprinkle with powdered sugar.
Wacky Cake
Claudia Foran, House Springs
Cake:
1 1/2 cups flour
3/4 cup sugar
1/3 cup cocoa
1 teaspoon baking soda
1/2 teaspoon salt
1/3 cup oil
1 tablespoon white vinegar
2 teaspoons vanilla
Preheat oven to 350 degrees. Combine flour, sugar, cocoa, salt, and baking soda in an ungreased 8-by-8-inch baking pan and spread evenly.
Make one large and two small wells in mixture. Carefully pour oil in large well and vinegar and vanilla in small wells. Stir everything together with a fork until combined.
Bake 25-30 minutes.
Icing:
1/3 cup butter
1/4 cup milk
3 tablespoons cocoa
2 3/4 cups powdered sugar
1 teaspoon vanilla
1/4 cup toasted pecans
Cook butter, milk and cocoa in small pan, stirring continuously. Remove from heat and whisk in powdered sugar and vanilla. Pour over cake hot. Sprinkle with pecans.
Grandma's Pound Cake
Jennifer Robertson, Arnold
This is a recipe that we make for Christmas. I hope you enjoy it as much as our family did when my grandmother made it.
1 pound butter
1 box powdered sugar, sifted
3 cups Swans Down cake flour
6 eggs
First cream the butter and then add the powdered sugar. Add the cake flour and then the eggs. Bake at 350 degrees for 1 hour.
Cathedral Windows
Ethel Lewis, De Soto
6 ounces chocolate chips
2 tablespoons butter
1 egg
3 cups colored miniature marshmallows
1/2 cup chopped nuts
1 cup flaked coconut (optional)
Melt chocolate chips and butter in top of double boiler.
Add egg and let cool.
Fold in marshmallows and nuts. Turn mixture out onto waxed paper covered with coconut; form into 12-inch by 2.5-inch roll. Wrap roll in waxed paper and freeze. Slice to serve.
Ozark Honey Oatmeal Cookies
Bridget Montgomery, Festus
Got this recipe from a gal I worked with over 22 years ago. She got it from a Mrs. Capriglione who was on her husband's mail route. Everyone that tries them absolutely loves them. Just make sure not to overbake; they will still look not quite done when you take them out.
1/3 cup honey
1/2 cup softened margarine
1 3/4 cups sugar
2 eggs
1 teaspoon salt
1 teaspoon baking soda
1 3/4 cups flour
2 cups quick cooking oats
1 cup shredded or flaked coconut (you can't taste it in the cookies)
Cinnamon sugar mixture (2 tablespoons sugar and 1 teaspoon cinnamon)
Preheat oven to 375 degrees. Combine honey, margarine, sugar, eggs, baking soda and salt; mix well. Stir in remaining ingredients. Shape into balls, then roll in cinnamon-sugar mixture. Place on cookie sheet and bake for 10 - 12 minutes.
Crockpot Chocolate Candy
Ann Wedel, Arnold
This is an easy recipe. Just make sure to keep crockpot on low. Crockpot candy at its best!
2 pounds lightly salted dry roasted peanuts
1 (12-ounce) bag of Toll House chocolate morsels
1 (4-ounce) block Baker's German sweet chocolate
1 (4-ounce) block almond bark
Put all ingredients in crockpot and cook on low, leaving it alone, for 3 hours.
Stir and spoon on parchment paper and let cool. 
Kolacky
Jennifer Robertson, Arnold
1 pound margarine
8 ounces cream cheese
4 cups flour
6 tablespoons of whipping cream
Solo Kolacky filling
First beat margarine and cream cheese in a mixer bowl. Then, add flour and whipping cream.
Make balls and then press down dough with the bottom of a glass dipped in flour. Make a thumbprint to put filling in. Fill with Solo Kolacky filling, almond, apricot, blueberry or whichever one you would like. Bake at 350 degrees for 15 minutes or until brown.
Adelin's Chocolate Chip Coconut Flour Cookies
Barb Luhrsen, Barnhart
1/3 cup coconut flour
1/8 tsp salt
2 1/2 tablespoons sugar-free maple syrup or honey
2 eggs
1/4 melted coconut oil
1/2 cup sugar-free chocolate chips
Heat oven to 325 degrees. Put parchment paper on cookie sheet.
Stir all ingredients together and roll in small balls. Place balls on parchment paper and flatten with fingers. Bake 24 minutes. Leave on cookie sheet until cool. Makes 9 cookies. 9 carbs per cookie.
Nana's Ginger Snaps
Debbie Greff, Hillsboro
2 cups of flour
2 teaspoons baking soda
1 teaspoon ginger
1 teaspoon cloves
1 teaspoon cinnamon
3/4 cups shortening
1 cup sugar, plus extra to roll cookies in
4 tablespoons molasses
1 egg
In a bowl, sift together flour, baking soda, ginger, cloves and cinnamon and set aside.
In a larger bowl, cream together shortening and 1 cup sugar. Then add molasses and egg.
Add flour mixture to shortening mixture and beat until smooth. Mixture will be very stiff.
Take a spoonful of the dough and roll into a ball and then roll in sugar. Repeat with remaining dough.
Bake on lined or greased pan at 350 degrees for 10 minutes. Makes 2-3 dozen cookies.
White Chocolate Cherry Cookies
Shonda Jenkins, Hillsboro
1 cup butter, softened
1/2  cup white sugar
1/4 cup brown sugar
1 egg plus one extra egg yolk
1 1/2 teaspoons Watkins almond extract
1 1/2 teaspoons baking soda
1/2 teaspoon salt
2 cups flour 
1 (10-ounce) jar of maraschino cherries, drained and very finely chopped (I lay them on a paper towel at this point)
2 cups Ghirardelli white chocolate chips
Preheat your oven to 375 degrees. Prepare your cookie sheets. (I use AirBake cookie sheets and I do not use parchment paper, but I do spray my cookie sheets.) Cream together your butter, sugars, egg and almond extract until it's creamy and silky.
In separate bowl, mix together your baking soda, salt and flour. Then combine dry ingredients with wet ingredients until it's well blended.
Fold in maraschino cherries and then chocolate chips.
Spoon them onto cookie sheet. Bake them for about 8 to 10 minutes, depending on the desired crispiness. I usually get two and a half dozen good-sized cookies out of this recipe.