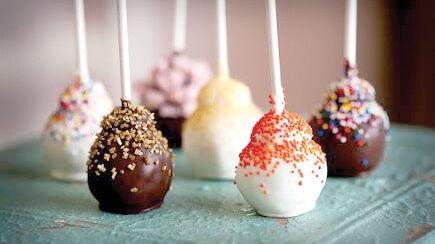 Eureka cafe owner adds cocktails, makes other changes
Jill Umbarger, owner of Sarah's on Central, 127 S. Central Ave., in Eureka, has made some changes at the cafe due to the pandemic, like scaling back the menu and offering online ordering and curbside pickups.
The most recent change was obtaining a full liquor license. Previously, the restaurant, which opened in 2016, served beer and wine, but now it can sell mixed drinks, including Bloody Marys and boozy coffees.
Umbarger said the front of the restaurant is being remodeled to make room for a bar.
The restaurant serves breakfast, lunch and dinner and is known for its desserts – the same ones sold at Sarah's Cake Shop, which Umbarger also owns.
She started that business in 2003 in Wildwood and moved it in 2010 to its current location, 10 Clarkson Wilson Centre, in Chesterfield.
Umbarger said she named the two businesses after her daughter.
Some of the popular desserts Umbarger offers include cupcakes, small bites and glitter bites – round balls of cake filled with butter cream, dipped in chocolate and rolled in sugar.
She said "everyday wedding slices," individual pieces of wedding cake, also sell well.
Umbarger said quiche and breakfast sandwiches are popular at the cafe in the mornings.
"We make our biscuits from scratch," she said.
Umbarger said the cafe also has great lunch and dinner options.
"Our burgers are phenomenal, and our salads are delicious," she said. "We also have a lot of healthy items – a veggie rice bowl, salmon, a shrimp and broccoli bowl. We also have gluten-free and dairy-free items."
While the cafe's business has been down since the start of the pandemic, Umbarger said Eureka officials and residents have been supportive.
"Eureka is an amazing place to have a business," she said.