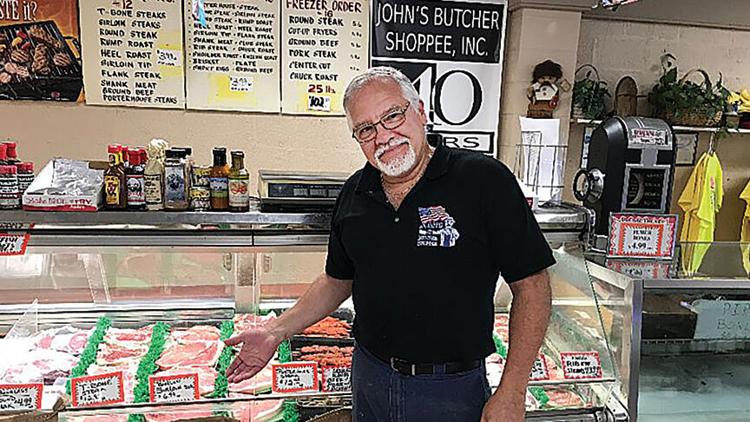 Hello, deer: John's Butcher Shoppee offers array of meats, deer processing
Things are bustling at John's Butcher Shoppee in Festus, even during the pandemic.
"Business has been very good," owner Tom Kolisch said. "Our volume is up, and we're drawing customers from outside the Twin Cities. In fact, we just hired two new people, starting in November."
Kolisch said people are buying more because they're cooking more at home.
"We sell a lot of choice steaks," he said. "A nice inch-thick New York strip or ribeye, maybe a baked potato – that's a meal."
Kolisch, a second-generation butcher/grocer, has been in the industry since 1974 and has operated the shop at 503 N. Mill Street since 1993.
He and his staff of five also offer deer processing for local hunters.
"A lot of places aren't doing (deer processing) right now, but we hired extra staff so we could," Kolisch said. "We do about 500 a year."
The shop offers a staggering 180 flavors of bratwurst, from typical flavors like barbecue, garlic or maple to curry, wild boar or jellybean.
John's also carries exotic meats like elk, alligator, lamb, bison and ostrich.
"Just about any cut you can imagine, we have it or can get it," Kolisch said.
Staples, though, are beef, pork and chicken.
"We do freezer orders, and we have 25 different combinations orders in various sizes, with everything wrapped small," Kolisch said. "You can customize a freezer order, too, at no extra charge."
Kolisch said he will have 10-12 pound fresh turkeys available for Thanksgiving.
The shop is observing COVID protocols regarding masks and social distancing, with hand sanitizer always available.
Curbside pickup is free, and delivery is available for a flat $10 fee.
Hours are 9 a.m. to 6 p.m. weekdays and 9 a.m. to 5 p.m. Saturdays. Kolisch said he is working on getting the company's website, www.johnsbutchershoppee.net, set up for online ordering.