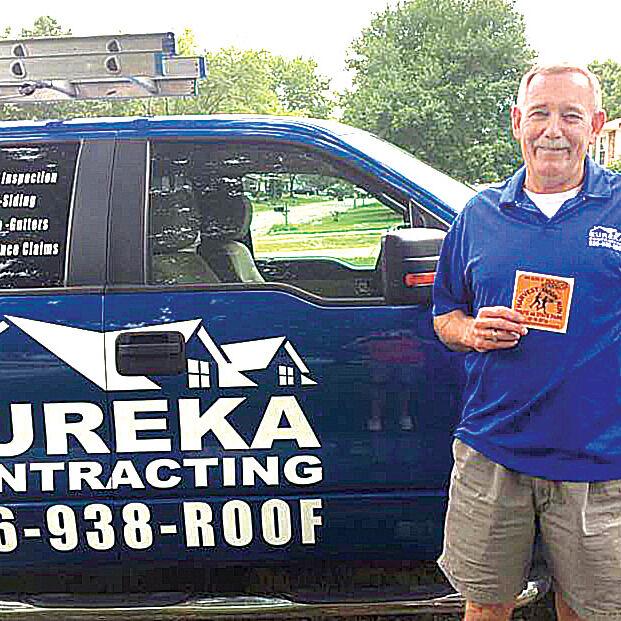 Experience, dedication join at Eureka Contracting & Roofing
Eureka Contracting & Roofing, established in 2012, is a second career for owner Rick Hinkson. He credits the 35 years he spent in insurance/construction for giving him a breadth of knowledge that makes his company a logical choice for roof replacement or maintenance.
The company, 128 S. Virginia Ave. in Eureka, installs residential roofing, gutters and siding and does painting. Its commercial roofing team can coat any existing flat or metal roof with a 100 percent silicone product for less than half the replacement cost and with a warranty.
Office manager Jordyn Guest said most of the company's employees have been there a long time, and customers appreciate their skills and dedication.
The company employs cutting-edge technology – using drones, infrared technology and moisture meters – but also uses the old-school method of actually climbing onto a roof for visual inspections.
Eureka Contracting and Roofing is certified with many major roofing manufacturers, and is the preferred contractor for multiple real estate and insurance agents. The company can inspect a roof and provide a short report with photos at no charge, usually within 48 hours.
Hinkson said customer service is paramount.
"We answer our phones," he said. "And we offer a very personal approach."
He said customers appreciate the "what to expect" letter they receive from the project manager, detailing the process from the time the contract is signed until the final quality control inspection.
The company guarantees complete jobsite cleanup, and the old roofing is recycled.
From its headquarters in a pre-Civil War log cabin, the company supports the Eureka community in a myriad of ways.
Hinkson is a member of the Eureka, West County, Kirkwood and Pacific chambers of commerce and chairs the Eureka-Pacific Elks Lodge veterans committee. He was named Eureka Business Person of the Year in 2017.
To inquire about a free, no-obligation inspection, call 636-938-7663 or visit eurekacontracting.com.