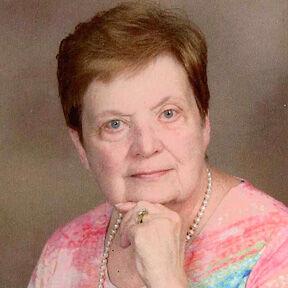 Karen Margaret Eisenbeis, 74, of Festus died April 17, 2021, at her home. Mrs. Eisenbeis was a longtime member of and eucharistic minister at Sacred Heart Catholic Church in Crystal City. She enjoyed spending time with her family and friends. Born Sept. 2, 1946, in St. Louis, she was the daughter of the late Rita (Ladendeck) and Albert Shady.
She was preceded in death by her husband: Ronald Martin Eisenbeis.
She is survived by two sisters: Janine (Jerry) Everett and Lenore (Mike) Rich, both of St. Louis; a brother: Stephen (Marilyn) Shady of St. Louis; two sisters-in-law: Carolyn Eisenbeis and Mary Ann Eisenbeis, both of Festus; and numerous family members.
Visitation will be from 4-8 p.m. Tuesday, April 20, at Vinyard Funeral Home, 616 W. Main St., in Festus. Funeral Mass will be at 10 a.m. Wednesday, April 21, at Sacred Heart Catholic Church, 555 Bailey Road, in Crystal City, officiated by Father Gregory Klump. Burial will be in Sacred Heart Cemetery in Crystal City. Memorials may be made to Sacred Heart Cemetery. Arrangements are under the direction of Vinyard Funeral Home.