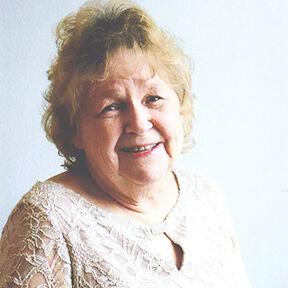 Diana S. Politte-Hampton, 75, of Arnold died April 5, 2021. Mrs. Politte-Hampton was a community volunteer and volunteered at the Crosspoint Church. She loved helping others through Operation Christmas Child Ministries, World Vision, St. Jude Children's Research Hospital, veterans' groups and the Romeo Group. Born Feb. 11, 1946, in St. Louis, she was the daughter of the late Romans and Pauline (Politte) Pratt.
She was survived her husband: Jim Hampton and was preceded in death by a husband: William Politte.
She also is survived by five children: Bill (Brenda) Politte, Judy (Gary) Manasco, Ronda (Chris) Kertz, Dan (Heather) Politte and Brian (Michelle) Hampton; 19 grandchildren: William C. Politte, Suzie Politte, Shannon Politte, Chrystalyne (Saul) Escobar, Gary (Kellie) Manasco Jr., Brittany Manasco, DiAnna (Jared) Smarsh, Samantha Steiger, Cassidy Kertz, Chloe Kertz, Morgan Politte, Taylor Politte, Riley Politte, Brooke Hampton, Whitney Hampton, Jacob Farace, McKenzie Jordan, Megan Jordan and Madelyn Jordan; 18 great-grandchildren: Landon Politte, Kenzie Politte, Aaliyah Escobar, Dominic Escobar, Ian Escobar, Nevaeh Escobar, Joseph Escobar, Gary S. Manasco, Ashton Manasco, Nora Manasco, Evan Speis, Raegan Speis, Maximus Eddington, Amara Eddington, Christopher Kaschner, Zelda Smarsh, Phoenix Politte and Eva Salvo; two siblings: Pricilla "Pat" (the late Robert) Moss and Donald (Mary Ann) Pratt.
She also was preceded in death by sister: Elizabeth Godfrey.
Visitation will be held from 10 a.m. until the funeral services at 1 p.m. Friday (April 9) at Heiligtag-Lang-Fendler Funeral Home, 1081 Jeffco Blvd., in Arnold. Burial will be in Shepherd Hills Cemetery in Barnhart. Arrangements are under the direction of Heiligtag-Lang-Fender Funeral Home.