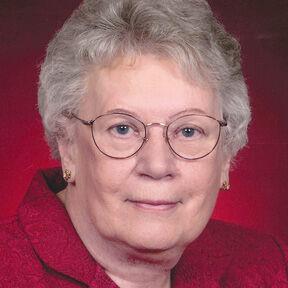 Betty Lee Hayes, 88, of Festus died April 17, 2021, at Crystal Oaks Nursing Center in Festus. Ms. Hayes was the head of personnel for the former Pittsburgh Plate Glass Co. Crystal City plant. She was a charter member of Faith Baptist Church. Born Aug. 24, 1932, in Rush Tower, she was the daughter of the late Rose Delphine (Solomon) and Oliver Edward Hayes.
She is survived by seven children: Debbie (Hugh III) MacKenzie of Festus, Jim (Jennifer)
Hayes of Coldwater, Miss., Lynn (Alex) Nguyen of Elkridge, Md., Kim (Hoang) Nguyen of Festus, Duc (Kim Son) Tran of Festus, Bethany Hayes of St. Louis and Mai (Tony) San of Oklahoma City, Okla.; a sister: Valene Ferguson of Festus; two sisters-in-law: Patsy Hayes and Diane Hayes, both of Festus; 12 grandchildren: Elizabeth (Adam) Kealen, David Nguyen, Melissa (Steven) Maher, Sara Nguyen, Hugh (Megan) MacKenzie IV, Angela (Ric) Roussin, Brandon Tran, Brandy (Josh) Brown, Vincent Nguyen, Vivian Nguyen, Camille (Adam) Cole and Emily Hayes; and 12 great-grandchildren: Greyson and Hudson Kealen, Leah and Ian Maher, Danna, Jensen, Lynn and Matthew Roussin, Harper and Hugh MacKenzie V, Mercy Cole and Henley Tran.
She was preceded in death by three brothers: Charles "Joe" Hayes, Oliver R. (the late Shirley) Hayes and Donnell Hayes; a brother-in-law: The Rev. Wilbur "Menk" Ferguson; and a granddaughter: Amy Lynn MacKenzie.
Visitation will be from 4-8 p.m. Wednesday, April 21, at Vinyard Funeral Home, 616 W. Main St., in Festus. Funeral services will be at 10 a.m. Thursday, April 22, at Faith Baptist Church, 11835 State Road CC, in Festus, officiated by the Rev. Rick Hedger. Burial will be in Lebanon Baptist Cemetery in Bloomsdale. Memorials may be made to Faith Baptist Church or the Missouri Baptist Home in Ironton. Arrangements are under the direction of Vinyard Funeral Home.