The annual Leader Wedding Fair typically showcases fashions for brides-to-be and their attendants. This year, the focus will widen to include smartly uniformed cadets from the Jefferson College Law Enforcement Academy, who will escort models during the fashion show.
The fair is slated for 11 a.m. to 3 p.m. Sunday, Jan. 26, at the Quality Inn, 1200 W. Gannon Drive, in Festus. The fashion show is at 2 p.m.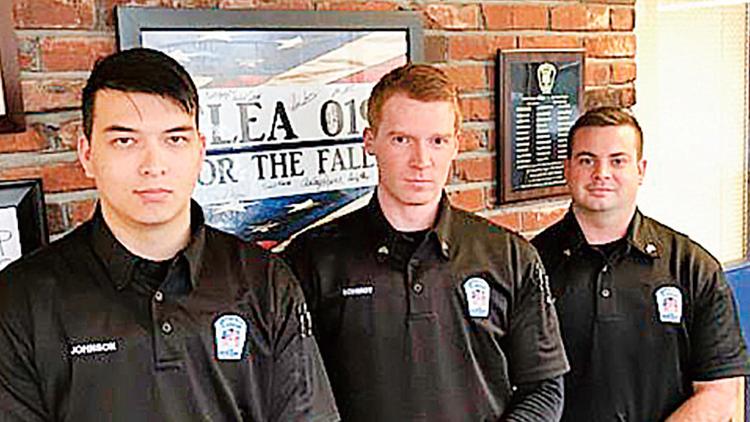 Admission to the Wedding Fair is $3 per person, and all proceeds from the admission fees will go to BackStoppers of Jefferson County, which helps the families of local first responders who die or are critically injured while on duty.
During the fashion show, White Weddings in Farmington will present dresses and accessories for brides and wedding attendants. Their escorts will be some of the 39 recruits currently enrolled in the Law Enforcement Academy, which meets at the college's Imperial facility.
At the academy, the recruits, mostly from Jefferson County and surrounding areas, learn about law enforcement through lectures, simulations and hands-on skills training.
"When they complete the curriculum, they earn an associate degree," LEA Director Diane Scanga said. "Then they are eligible to test for the POST (Peace Officer Standards and Training) licensing test, and if they pass they can then be a commissioned police officer."
The cadets will appear in the fashion show to support the Jefferson County BackStoppers group, which was formed in 1959 and serves 13 Missouri counties and five Illinois counties.
"We (the Jefferson County chapter) currently pay out about $1.4 million a year to support close to 70 families," said Doug Reuther Sr., president of BackStoppers of Jefferson County. "Some have needed help for a long time."
That support can take many forms, starting with the period of time right after the injury or death.
BackStoppers immediately takes care of costs associated with hospitals and funeral homes.
"We take care of the spouse, the children," Reuther said. "All their medical, their dental. We take care of school for the kids, and we make sure the surviving spouse doesn't have to go back to work in a family that has lost its main breadwinner."
Reuther said the organization offers a long-term safety net with no strings attached for families.
"BackStoppers sticks with them," he said. "We stick with the children through college and with the spouse for the rest of his or her life. There is one lady whose husband died who is almost 90 years old, and we still support her."
Help like that doesn't come free. BackStoppers funds its operations through donations, memberships and fundraisers.
"We have about 12 to 15 volunteers for different functions. All the funds we raise go to the organization; we have no administrative overhead," Reuther said. "We have a membership drive every odd-numbered year."
Corporate partners are a source of revenue Reuther said his group is grateful for.
"Gerding Enterprises in Cedar Hill had a barbecue that raised $34,000 this year," he said.
BackStoppers supports families in non-monetary ways as well.
"We hold all kinds of awareness events, and I believe it helps to keep our organization out there in the public eye," Reuther said. "The families know we haven't forgotten about them.
"We don't help once and then forget about it. It's an ongoing thing; we reach out to them, call, see what they need. We come around for birthdays, anniversaries, graduations. We will be around for as long as they need us."
Reuther said the Wedding Fair is a great way to get that message out to the public.
"When something like this happens, the family can never get over it," he said. It's a matter of easing the pain and doing what you can for them."
Over the Leader Wedding Fair's 25-year history, the event has raised $44,310 for local charities.
For more information, contact the Leader by phone at 636-931-7560 or email at news@leaderpublications.biz.